NEW SUPPLEMENTS – VITAMINS
NEW SUPPLEMENTS:
TAURINE, Double Strength 1000 mg, 250 Veg Capsules
Taurine is a conditionally essential amino acid which is not utilized for protein synthesis, but is mainly found free in most tissues.
Product details
Supports healthy visual function
Nervous system health
Supports electrolyte balance
NOW Double Strength Taurine offers 1,000 milligrams of Taurine in one Serving!
Taurine has been found to be important in maintaining the body's natural electrolyte balance. It is a conditionally essential amino acid which is not utilized in protein synthesis, but is mainly found free in most tissues, especially throughout the nervous system. It functions in tissues by stabilizing cell membranes, aiding the transport of potassium, sodium, calcium and magnesium in and out of cells.
Taurine helps to generate and regulate nerve impulses and aids in the maintenance of fluid balance already within normal levels.  It also is used by the body for visual pathways. Not manufactured with wheat, gluten, soy, milk, egg, fish, shellfish or tree nut ingredients.
Supplement Facts
Serving Size 1 Veg Capsule
* Daily Value not established.
Other ingredients: Cellulose (capsule) and Stearic Acid (vegetable source).
Suggested Usage: Take 1 capsule 1 to 2 times daily with juice or water, preferably between meals.
Caution: For adults only.
Consult physician if pregnant/nursing, taking medication (including anti-hypertensive and diuretic medications), or have a medical condition (including hypotension). Keep out of reach of children.
Do Not Eat Freshness Packet. Keep in Bottle. Natural color variation may occur in this product.
Store in a cool, dry place after opening.
Not manufactured with wheat, gluten, soy, milk, egg, fish, shellfish or tree nut ingredients.
Produced in a GMP facility that processes other ingredients containing these allergens.
GMP QUALITY ASSURED
Non-GMO
Vegetarian/Vegan
KOSHER
Recyclable Bottle.
---
LIQUID MSM with Vitamin C
Benefit from Liquid MSM Drops with Vitamin C – Made with High Quality and Organic Ingredients!
Looking for a safe, all-natural, non-toxic form of Liquid MSM?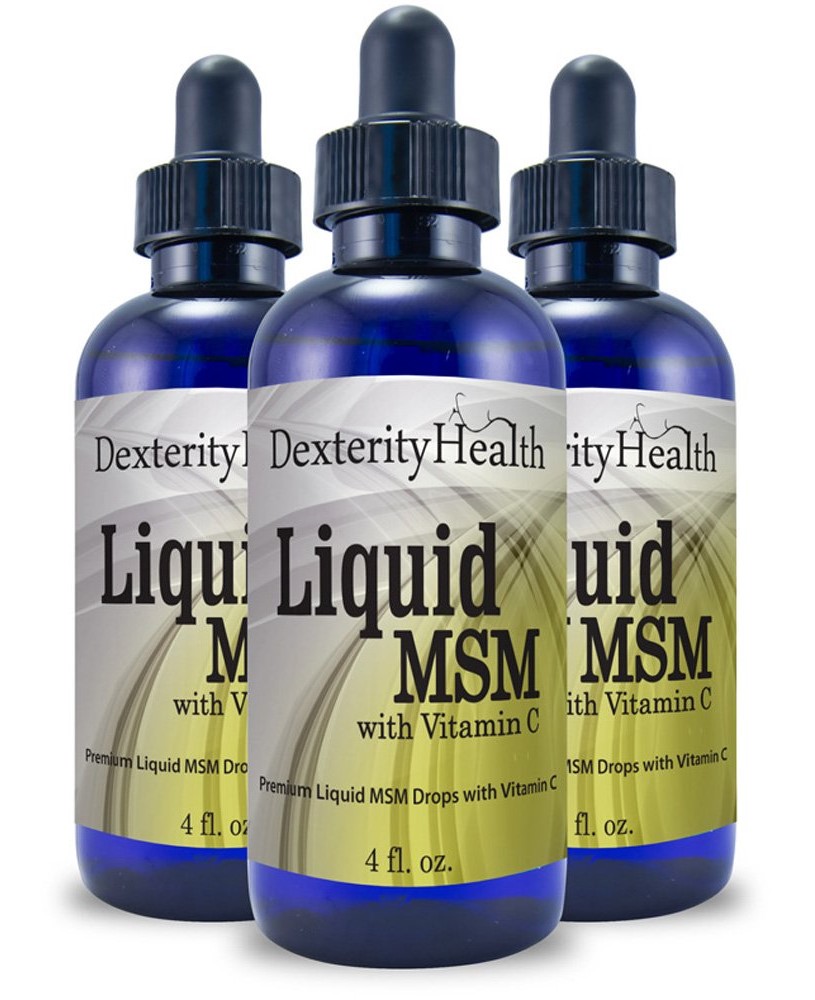 Would you be more comfortable applying drops to your eyes that are derived from organic ingredients?
How about enjoying the benefits of a product used successfully by thousands of satisfied customers?
Liquid MSM with Vitamin C could very well be your answer! The MSM in this product is derived from an all-natural, organic compound. This product also contains two forms of high quality Vitamin C, in the form of calcium ascorbate, which studies have shown is the most efficient form of Vitamin C on the market. Lastly, the base liquid is distilled water mixed with our Homeopathic Cell Salt Blend.
AN AID TO OVERALL HEALTH: Liquid MSMhas been reported to offer a wide array of health benefits. Our ALL-NATURAL, ORGANIC MSM contains HIGH QUALITY, BIO-AVAILABLE sulfur, which is an essential element for the body to function optimally. Liquid MSM with Vitamin C can provide A GREAT BOOST to your overall well-being!
GOLD STANDARD PRODUCTION: Your health and safety mean everything to us. For that reason, our Liquid MSM with Vitamin C is manufactured in the USA, in an FDA approved facility with adherence to good manufacturing policies (GMP) and under the most stringent quality control. You can rest assured that you get the BEST VALUE for your money!
Excellent for Natural Eye Care
Liquid MSM with Vitamin C is most commonly used as eye drops. This product is sterile and non-toxic, and thus safe to apply directly to the eyes. Using Liquid MSM as eye drops is any easy, safe way to assist in removing unwanted eye residue, and to help maintain the cleanliness of the eyes.
Fix Floaters in The Eyes
Dr. Eric Berg has a very detailed, very informative video for how Liquid MSM can be used to treat floaters in the eyes. To view this video, search on YouTube for "eric berg liquid msm" to find a video called, "Fix Floaters in the Eyes".
Note that this is a 4-ounce bottle – a great value!
Manufactured in the USA, in an FDA approved facility with adherence to good manufacturing policies (GMP) and under the most stringent quality control.
See a Brighter, Healthier Future with Liquid MSM Drops with Vitamin C …Purchase NOW!
---
IONIC BORON 6mg.
Ionic Boron 6 mg – 2 fl. oz (59 ml) from Trace Minerals Research® may be a good choice for healthy bones and joints' improved bone metabolism and enhanced brain functioning.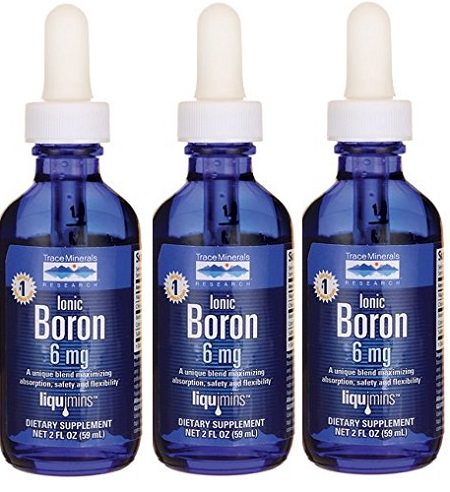 This liquid dietary supplement contains boron in its ionic form. This may help the body to the mineral quickly and easily. It is believed that boron may interact with other minerals such as calcium and magnesium that may potentially promote optimal bone metabolism. When boron is absorbed by the body' it may support the creation of new bone cells in the bone marrow.
It is also said that optimal supply of boron in the body may help in the effective functioning of the brain. Along with liquid boron' the supplement from Trace Minerals Research® also contains magnesium' sulfate and chloride from the registered ConcenTrace® formulation. This formulation contains over 72 ionic minerals extracted from the Great Salt Lake.
Enhance your bone health with Ionic Boron 6 mg – 2 fl. oz (59 ml) from Trace Minerals Research®.
Boron for Bone & Joint Health
Boron plays a key role in strengthening bones and joints, and a deficiency in this powerful mineral can result in skeletal abnormalities.
It has a close relationship with calcium, magnesium and vitamin D – did you know that boron can help to resolve a vitamin D deficiency.  It does this by blocking the enzyme that degrades vitamin D in the blood. Together with vitamin D, boron can stimulate the mineralization of bones to make them stronger. This is particularly important in post-menopausal women where adequate levels of boron can improve bone mineral density and prevent osteoporosis.
Boosting Testosterone with Boron
Men suffer from low testosterone for a variety of reasons – stress, illness, nutrient depletion and natural decline due to ageing. It can contribute to a lack of energy, low sex drive, anxiety and depression, weight gain, high cholesterol, and loss of bone strength.
Good news: boron is a cheap, effective, and safe testosterone booster. It elevates testosterone levels by converting total testosterone to its more bioactive form, free testosterone, and by increasing the availability of the raw materials the body needs to make more testosterone (think vitamin D and magnesium).
A 2011 study on healthy males showed that their free testosterone increased after just one week of taking a daily dose of 11.5mg of boron. They also experienced a significant decrease in inflammatory markers and sex hormone binding globulin, and an increase in vitamin D.
A dose of 3mg per day is enough to help maintain healthy testosterone levels, but you can go up to 15mg for a serious boost. Doses of 20mg per day and above are dangerous and may lead to infertility, so stick to moderate levels.
Boron to Protect Oestrogen
Here's the interesting thing about boron – it appears to boost hormones in both men and women.
Boron increases the half-life of beneficial oestrogens – specifically, 17B-estrodiol. Boron blocks the enzyme that breaks down this form of oestrogen (the same enzyme that breaks down vitamin D!). By keeping 17B-estradiol in higher levels, boron may help to decrease the severity of symptoms of menopause, difficult menstrual periods, and may help to prevent osteoporosis.
A small study of 12 postmenopausal women with low boron diets showed that taking 3mg of boron per day almost doubled their serum 17B-estradiol levels. It also boosted testosterone to healthy levels and improved magnesium and calcium retention [6].
Doses of 10mg – 15mg per day are recommended to help correct an oestrogen deficiency.
Boron for Brain Health & Cognition
With boron's underrated reputation as a minor mineral, research on its role in brain function is scarce and mostly involves rats instead of humans. But the evidence that is available suggests that boron is incredibly important for cognition and memory.
One particular stand-out study demonstrated that a boron deficiency causes the brain's electrical signals to misfire, leading to poor performance of short-term memory, attention, and motor-skills. Adding only 3.25mg of boron to their diet improved participants' hand-eye coordination and memory.
How Much to Take
Doses of 3mg – 6mg per day are considered effective for general well-being, cognition support, and bone maintenance. Hormonal balancing may require higher doses of 10mg – 15mg per day, but start with 3mg per day and increase the dose if necessary.
Note: Doses over 20mg per day are potentially toxic. Lower doses are probably safe during pregnancy and breastfeeding but do not exceed 17mg per day. Higher amounts have been linked to birth defects.
Contraindications for Boron
Do not take boron if you have kidney disease or any issues with kidney function.
Seek advice from a physician before taking boron if you have any of these hormone-sensitive conditions:
Breast cancer
Uterine cancer
Ovarian cancer
Endometriosis
Uterine fibroids
Trace Minerals have suspended ionic boron in a liquid along with other synergistic nutrients including magnesium. This ionic form of boron is well-absorbed and requires no further metabolism for physiological use – that means you'll see results faster. Each full 1mL dropper delivers 6mg of boron which is enough to meet a therapeutic daily dose. The taste is salty and bitter, so dilute it with plenty of water.
---
OcuPhase® – Soothing Lubricant Eye Drops with NAC (N-Acetylcarnosine)
OcuPhase® is a sterile eye-drop formulation offering two proven lubricants – hydroxypropylmethylcellulose and glycerin – that are approved by the FDA for ophthalmic use.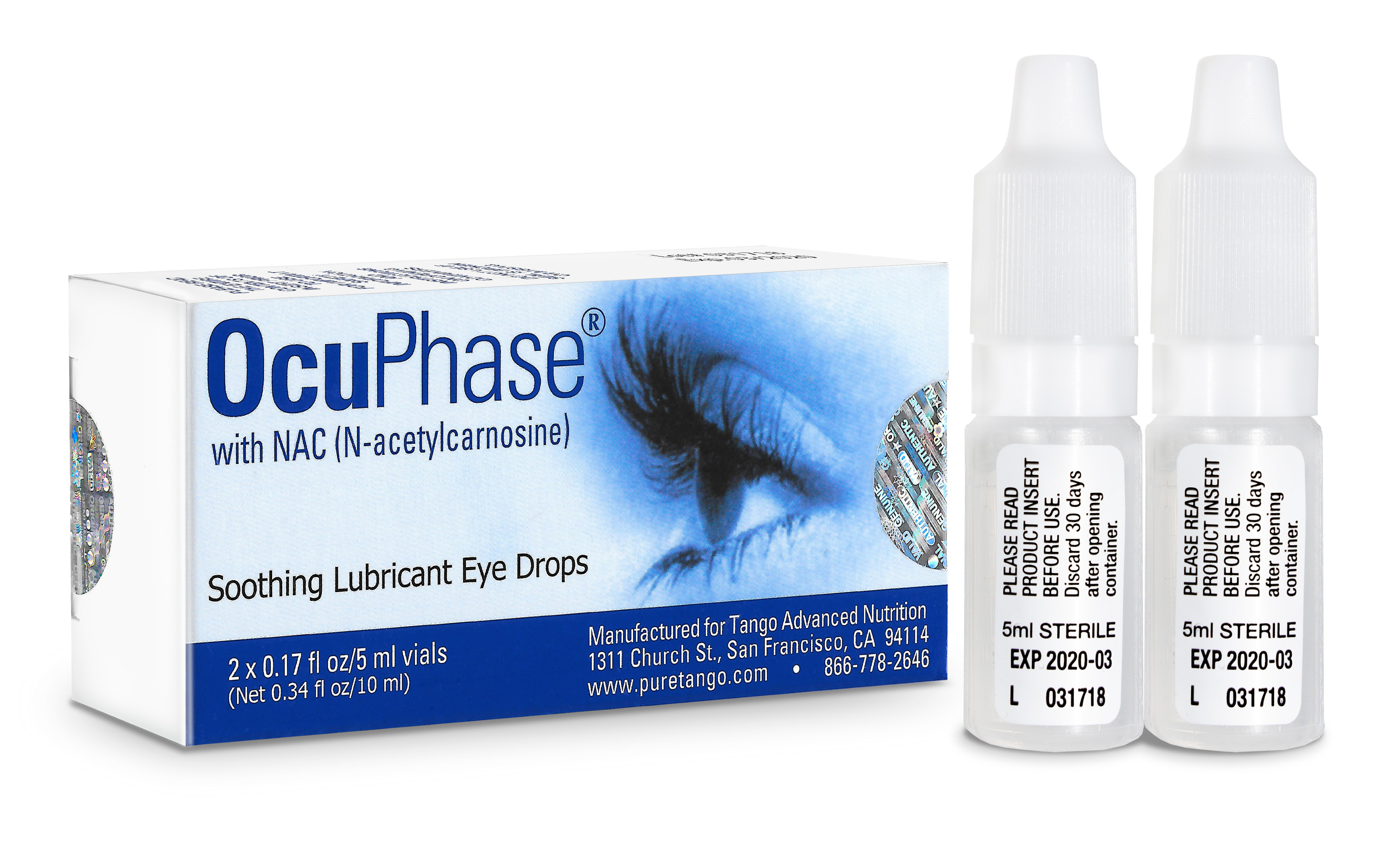 Applying lubricating eye drops several times a day can help to alleviate discomfort. Additionally, a number of nutrients have been shown to benefit eye health and good vision. One of these, carnosine, is a dipeptide consisting of two amino acids (alanine and histidine) connected by a chemical bond. Based on research performed mainly by Russian scientists, it is believed that carnosine's antioxidant properties support healthy vision by inhibiting a chemical process called glycation.
Glycation leads to deleterious chemical complexes called AGEs (advanced glycation end products) that result from common but undesirable reactions between blood sugars, such as glucose, and proteins in many parts of our bodies, including the lenses of our eyes. The sugar-protein complexes become chemically cross-linked and degrade cellular functions. The aptly named AGEs are thought to be an important factor in the aging process.
Carnosine eye drops have been shown to aid in delaying vision senescence in humans by restoring the natural structure of proteins in the lens.
N-Acetylcarnosine
N-acetylcarnosine (NAC), like its parent compound, carnosine, occurs naturally throughout the human body. Both compounds are found primarily in the heart and skeletal muscles (the word carnosine is derived from the Latin word for flesh) and in the brain. Carnosine was discovered in 1900 in Russia, and it is in Russia that most of the recent research on the N-acetylcarnosine derivative has been carried out. Research with N-acetylcarnosine, as with carnosine, demonstrates that it is effective for improving transmissivity of light through the lens.
The structural difference between NAC and carnosine is that one hydrogen atom in carnosine replaces an acetyl group (CH3CO-), and this substitution occurs at a nitrogen atom. An important chemical difference between carnosine and N-acetylcarnosine is that carnosine is relatively insoluble in lipids (fats and fatty compounds), whereas N-acetylcarnosine is relatively soluble in lipids (as well as in water).
This means that N-acetylcarnosine may pass through the lipid membranes of the corneal and lens cells more easily than carnosine, and may thereby gain access more readily to the cells interior, which is primarily aqueous. There, the N-acetylcarnosine is gradually broken down to carnosine (and, perhaps, to histidine), which then exerts its beneficial effects.
Conclusion
Carnosine and N-acetylcarnosine eye drops appear to be a safe, effective means for supporting eye health, comfort and quality of vision in aging humans.
* These statements have not been evaluated by the Food and Drug Administration. This product is not intended to diagnose, treat, cure, or prevent any disease.
---
WHC – UnoCardio 1000 (60 Softgels) – OMEGA-3
This High Quality Omega-3 product, with imported ingredients has 1180 mg of pure omega-3 per softgel with High EPA 665 mg & DHA 445 mg per softgel, plus Vitamin D3 – 25 mcg (1000 IU) per softgel Made In the USA with 1300 mg of pure Triglyceride fish oil with high concentration.
About the product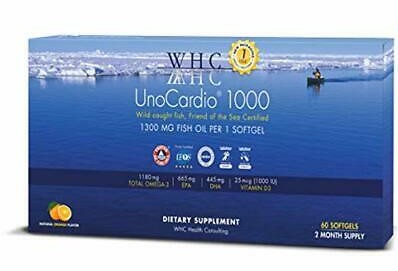 OMEGA-3 1180 mg per softgel
High EPA 665 mg & DHA 445 mg per softgel
Vitamin D3 – 25 mcg (1000 IU) per softgel
Made In the USA from imported ingredients
NEW 2019 – E-Commerce flat packaging
UnoCardio 1000 is the world's best-quality fish oil, as named by independent US laboratory Labdoor. Derived from fish harvested from sustainable sources, the premium fish oil supplement combines high levels of EPA (665mg) and DHA (445g) with vitamin D3 (1,000 IU). Manufactured to support the health of the heart, brain, vision and bones, UnoCardio 1000 represents the gold standard in omega-3 supplementation.
What is UnoCardio 1000?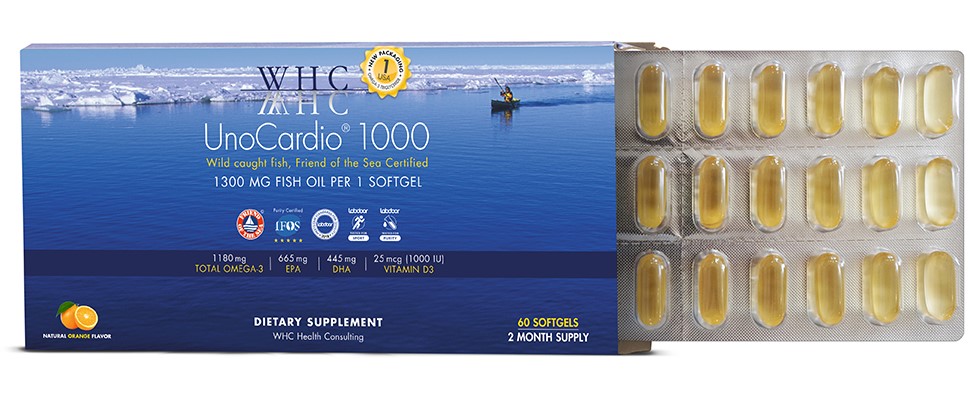 WHC's fish oil + vitamin D complex, UnoCardio 1000 combines highly pure EPA and DHA with vitamin D3. A premium supplement for overall health, in particular cardiovascular, brain and immune health.
What makes ours different?
Labdoor have ranked UnoCardio 1000 #1 for quality since 2015, owing to factors such as Label Accuracy, Product Purity, Nutritional Value, Projected Efficacy and Ingredient Safety. As such, you can be sure you're getting a fish oil supplement of unquestionable quality.
It's not just Labdoor: UnoCardio 1000 also has a five-star rating from the International Fish Oil Standards Program, who commended its high concentration of omega-3 and absence of contaminants.
With many omega supplements, you must take several capsules each day to achieve a therapeutic dose. UnoCardio 1000, on the other hand, provides 1180mg fish oil per capsule, including a high concentration of EPA and DHA. The inclusion of vitamin D3 is a bonus.
Who is it for?
This high-strength fish oil and vitamin D formula is the perfect supplement for anyone wishing to benefit from the valuable nutrients it contains. While EPA and DHA contribute to the normal function of the heart, DHA alone contributes to the maintenance of normal brain function and vision.
Maternal intake of DHA also contributes to the normal brain development of the fetus and breastfed infants, and to the normal development of the eye of the fetus and breastfed infants.
Vitamin D, meanwhile, contributes to normal absorption/utilization of calcium and phosphorus, normal blood calcium levels, the maintenance of normal teeth and bones, the maintenance of normal muscle function and the normal function of the immune system.
In the face of fierce competition, UnoCardio 1000 has retained Labdoor's #1 ranking for several years. Choose the best.
---
Vitamin K2+D3
Supplementing vitamin D3 and K2 can help promote bone health and maintain health cardiometabolic function.
CLINICAL APPLICATIONS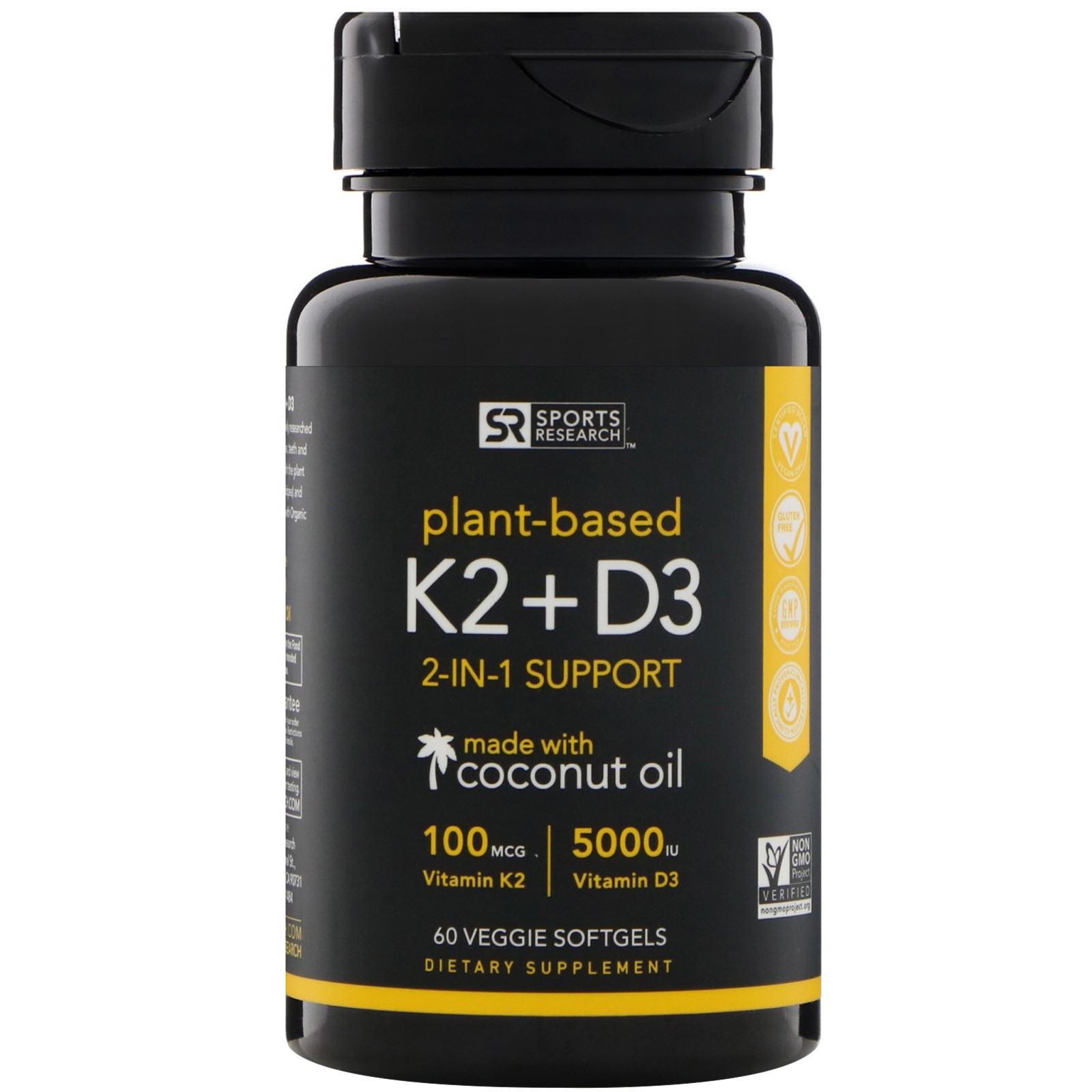 Supports Healthy Calcium Balance
Promotes Bone Health
Supports Cardiovascular Health and Arterial Elasticity
Boosts Immune Function
New research is focusing on the synergistic relationship between vitamin K2 and vitamin D3, for bone and cardiovascular health.
A group of naturally occurring and structurally similar, fat-soluble vitamins, vitamin K is essential for the proper utilization of calcium. Through its activation of the protein osteocalcin, vitamin K helps to bind newly absorbed calcium to the mineral matrix in bone. In addition, vitamin K has been found to help maintain bone mineral density by decreasing the activity of osteoclasts, a cell that breaks down the bone matrix.
Vitamin K also provides critical cardiovascular protection by helping to activate matrix Gla protein (MGP), an inhibitor of circulatory calcification. Thus, vitamin K and vitamin D not only share similar qualities, but they also act synergistically within the body.
Description
Plant-Based
2-In-1 Support
Made with Coconut Oil
100 Mcg Vitamin K2 – 5000 IU Vitamin D3
Dietary Supplement
Certified Vegan
Gluten Free
GMP Certified – Good Manufacturing Practices
Clinically Proven
Non GMO Project Verified
Sports Research Vitamin K2 + D3 combines two powerful nutrients extensively researched for their contribution to the health of bones, teeth and the cardiovascular system. Formulated with the plant based ingredients, MenaQ7 K2 (from chickpea) and Vitashine Vegan D3 (from Lichen), along with Organic Virgin Coconut Oil.