Raw Unprocessed Honey
In partnership with JT Trading, Vietnam we are able to bring high quality of raw unprocessed 100% pure honey.
We are producers and suppliers of: Coffee Blossom Honey, Mint Flower Honey, and Longan Flower Honey directly from the highlands of Vietnam.
COFFEE HONEY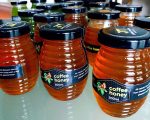 All natural, raw Coffee Blossom Honey from Vietnam. Medium sweet with a very pleasant caramel color. Plus a little kick of caffeine.
DESCRIPTION & ORIGIN
It took us a few years to find a good source for this honey. While a fair amount of coffee blossom honey is made around the world in Asia, South America and Africa, it is hard to line up dependable sources for high quality honey. We now have a good source from a coffee plantation located in the highlands of Vietnam.
This honey comes from the nectar of arabica coffee plants. Both the nectar and the honey do contain some caffeine. At least one study found that this caffeine boosts memory in bees, helping them to return to the same flowers again and again until the nectar is all collected.
COLOR & TASTE
Extra Light Amber in color, coffee blossom honey is medium sweet with a very pleasant caramel-apricot flavor that builds as the honey dissolves on your tongue. Some people also tell us it has a bit of a spicy aftertaste.
Appreciated by connoisseurs, Coffee Flower honey is 100% natural. Bees gather coffee flowers under the high foliage, sunny slopes of the highlands. Sweet and delicious, Coffee Flower honey exhales perfume of Jasmine, and citrus flavors with a subtle fragrance of wild flowers.
---
MINT HONEY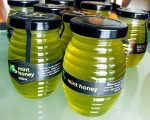 Mint is a nectar producing plant with over 30 species and hybrids. Probably one of the best known herbs, it grows wild around the world and is widely cultivated. It is a member of the nectar-producing (melliferous) Lamiaceae family that include basil, oregano, rosemary, sage, thyme and lavender, many of which produce excellent single flower honey.
Mint honey is a rare treat. It has a strong flavor and distinctive aroma which varies depending upon the variety of mint it was made from. It is a common wild flower and is often a contributor to wild flower honey, but seldom in quantities sufficient to make a single flower honey.
Fortunately, mint is cultivated for its essential oil and these large fields of mint make the monofloral variety of honey much easier to find.
Mint is generally known for its slightly sweet taste and the cool sensation it leaves in your mouth. It has been used for thousands of years as a culinary herb and for its aromatic and therapeutic properties.
Mint honey is a rare find these days in spite of the fact that mint it is widely cultivated. It has one of the most powerful aromas of all the mints. Surprisingly, the honey does not taste like what you might expect. In fact, it has a strong sweet but menthol flavor, but it surprisingly good. It is medium sweet with a lingering after taste. It is a green colored in liquid form.
Our bee farms in Vietnam are located in the high mountains where Mint flowers grow wildly, about 2,000m above sea level.
The flowers blossom in October to January only in freezing cold weather. When almost all kinds of fruit trees and crops cannot grow, the Rocky Mountains are covered with purple mint blossoms.
Our beekeepers have experience to keep honey in safe places out of the winter wind in the high mountain. Our harvest season is from November to December in the high mountains, and in October in the lower mountains. We have large bee colonies and we relocate our beehives close to flower resources in order to get excellent quality pure honey.
---
LONGAN HONEY
Longan Honey has massive benefits – It's a powerful antimicrobial honey.
If you enjoy honey and wonder about longan honey benefits for your health, then you should know that it is a powerful antioxidant and antimicrobial with good results against MRSA. When it is consumed fresh and raw.
The fruit is very common in Asia, but is considered to be a relatively new fruit to the world.


Scientific name: Dimocarpus longan
Other names: longan, dragons's eye
Family: Sapindaceae (soapberry family) just like lychee, rambutan, guarana, pitomba, Spanish lime, pulasan and ackee. Longan is commonly associated with lychee, similar in structure but more aromatic in taste.
Distribution: Southern Asia – Vietnam. (The weather is much better suited for longan growth.)

Pollination: Usually, the flowers open at night and pollination takes place from early morning to mid-afternoon by different insects, mainly honeybees.
Longan honey, also known as "spring honey" because it is primarily produced in the springtime.
Color: medium to dark amber with reddish tints
Flavor: fruity, redolent of peaches

Taste: medium sweet
Protein content: high, 1.699%
Mineral content: high: Na (95.94 mg/kg), K (96.35mg/kg), Ca (118.07 mg/kg), Fe (164.60 mg/kg), Mg (35.47 mg/kg), Zn (26.47 mg/kg)
Flavonoid content: from 40.46 to 81.91 mg quercetin /kg of honey, lower than in coffee (178.31 ± 40.04) and manuka (162.87 ±11.51) – in honeys from Thailand. This content differs with geographical areas. Thus logan honey from Vietnam had a flavonoid concentration (142.63 mg/kg), higher than that of manuka honey (97.62 mg/kg).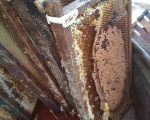 Indicating its high antioxidant potential. According to this study, the higher flavonoid content present in longan honey suggests the superior antioxidant capabilities (compared to manuka, tualang, gelam, pineapple, Algerian honey, Indian forest honey, Bangladesh honeys
or Cuban honeys).
Antibacterial activity: high, due to hydrogen peroxide activity of the honey.
Health Benefits of Longan Honey:
According to traditional folk medicine longan honey is used to:
– reduce fatigue and restore energy
– improve appetite and digestion
– expel heat and dryness
– improve the quality of sleep
– improve overall physical conditions.
Traditional Chinese Medicine uses longan flowers and seeds for relieving pain and urinary diseases. The logan fruit is use by TCM as a stomachic, febrifuge, and vermifuge, and also as an antidote to poison.
Science has also proved its antioxidant and antimicrobial qualities and its power in fighting cancer. To benefit from longan honey's antimicrobial properties always use fresh raw honey!
Honey is a functional food and has different biological properties such as antibacterial (bacteriostatic properties), anti-inflammatory, wound and sunburn healing, antioxidant, radical scavenging, antidiabetic and antimicrobial activities.