OCEAN DERIVED TRACE SEA MINERALS
ULTRA HYDRATING CREAM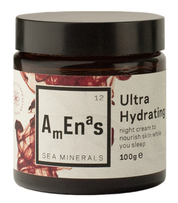 A lovely soft and glossy night cream, to nourish skin while you sleep. This cream has high emollient properties to moisturize without leaving your skin feeling oily.
– Contains: Sea Minerals, Olive Oil, Coconut Oil, Jojoba, Macadamia Oil, Avocado Oil, Bees Wax, Vitamin E, Rosemary oil.
TARGETED CARE CREAM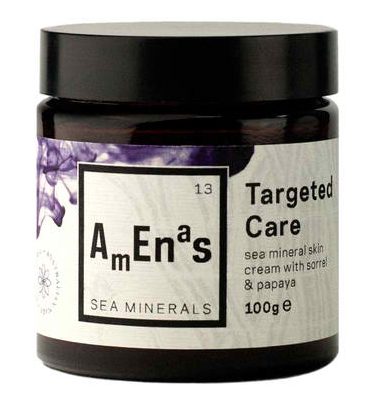 – Targeted Care Cream is used for difficult skin conditions, eczema, psoriasis, sun damage, may help age spots, sun
spots etc. Very high in both mineral and herbal content this is our top selling cream.
– Contains: This amazing topical cream contains Carica Papaya (PawPaw) Rumex Acetosella (Sheep Sorrel) and other selected herbs, along with sea minerals and natural emollients this cream may help with psoriasis, sun spots, eczema, rashes and other tough skin problems.
TRACE SEA MINERALS
-Bio-available macro and trace elements high in magnesium, 1 teaspoon of DAILY BOOST Sea Minerals contains an astonishing 1500mg of naturally balanced minerals in every teaspoon! Specially selected organic herbs, used traditionally for a range of ailments* and prepared with the greatest care are infused into ocean derived sea minerals to provide these wonderful herbal tonics. Sea Minerals ULTRA BOOST and Sea Minerals – HAWTHORN.
"Ionic minerals are already in a form that the body recognizes and understands so they can be easily assimilated through the selectively permeable cell membranes."
– We all need minerals to survive; each day our bodies are working at renewing and building cells that transport oxygen around the body, make skin and hair, rebuild and rejuvenate organs, ensure communication between cells, build healthy bones and much more.
– Trace Sea Mineral oral tonics are ionic which means that the minerals are bonded with water and are easily absorbed in the small intestine making them readily available to the body. Many trace elements on land are being depleted at an alarming rate due to farming practices, food processing practices, leaching, surface runoff etc. The ocean, however, with its volcanic activity, and the solvent effects of water and currents is a veritable soup of macro and trace minerals.
– The most prevalent ionic mineral in Sea Minerals is magnesium. Every living organism needs Magnesium which is shared fairly equally between the skeleton and soft tissues. Magnesium deficiency can cause cramps, migraines, anxiety, hinders Vitamin D metabolism, worsens the risk of osteoporosis, effects potassium balance, may be a common factor associated with insulin resistance and vascular disease (1) to name a few.  It is essential that the body gets adequate amounts of Magnesium along with other macro and trace elements in a natural balance*.  The ocean supports millions of lifeforms all dependent on Mother Nature's design and equilibrium.
– A teaspoon a day of Oral Tonic should assist in gaining or maintaining mineral balance in your body, which would in turn give you the chance to function at your best.
WHY TAKE SEA MINERALS?
Every biological function of the human body relies on adequate levels of minerals and trace elements. Without adequate levels of ALL minerals, the body's ability to function properly is impeded and ultimately disrupted.
Minerals are required but not limited to assisting the following functions:
– Proper Brain Activity
– Problem Solving Ability
– Endocrinal Activity
– Regulation of Cell Fluid Levels
– Nerve and Muscle Function
– Immune System
– Healthy Skin
Can We Get Sufficient Minerals from Our Daily Food Diet?
"Most physicians and many persons live with the mistaken notion that the average diet somehow magically supplies all the nutrients essential for a health life.
There is a harmony between vitamins and minerals and even though vitamins are nearly ineffective without minerals, they are both necessary. Minerals are quite different from vitamins in their structure and the work they do, but the two enjoy an excellent working relationship
So, from where can we get the minerals we need if they are not available in our food supply? … From the Sea: 
As Ocean Minerals and our blood plasma are almost chemically identical, Sea Minerals are the finest source for nutritional minerals and trace elements in nature.
You may be surprised to know that ocean water is a rich and balanced source of all minerals and trace elements in concentrations that are not only beneficial to man, but every living creature and life form on earth.
Did you know that a fetus starts its life in its mother's womb comfortably suspended in a warm solution much like ocean water? It is no coincidence that sea minerals and our very own "blood plasma" are almost chemically identical. The fluid that feeds all our organs, major and minor, has a fine balance of elements within it.
Trace Sea Minerals Analysis Chart:
Benefits of Trace Sea Minerals:
Anti-Aging
"Mitochondrial oxidative decay, which is a major contributor to aging, is accelerated by many common micronutrient deficiencies. We emphasize those deficiencies, which appear to cause damage through this mechanism, particularly minerals such as iron (25% of menstruating women ingest <50% of the RDA) or zinc (10% of the population ingest <50% of the RDA)."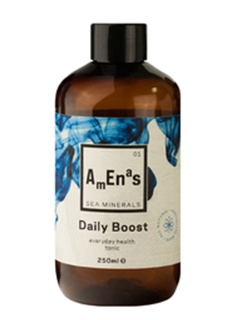 High Blood Pressure
"Our results support the premise that low potassium intake may play an important role in the genesis of high blood pressure. Increased potassium intake should be considered as a recommendation for prevention and treatment of hypertension… "
Kidney Stones
"A high dietary calcium intake decreases the risk of symptomatic kidney stones."
Migraines
"Epidemiological findings and supplementation trials show that people's magnesium [deficiency]… is associated with the severity and frequency of migraine headaches, some forms of heart attacks, high blood pressure, sleep disorders and mood disturbances."
Osteoporosis
"Mg [Magnesium] deficiency has been associated with a number of clinical disorders including osteoporosis."
Parkinson 's disease
"With respect to chronic brain injury, recent results indicate that magnesium deficient mice are susceptible to developing Parkinson's disease, which is consistent with earlier findings that magnesium deficiency over a number of generations is associated with the development of Parkinson's disease."
Trace Minerals & High Blood Pressure
"Copper deficiency may contribute to reduced blood flow, and hence reduce oxygen delivery to tissues and increase blood pressure."
For prices in bulk, please send us your information and specific amount request to info@bio-healthtek.com